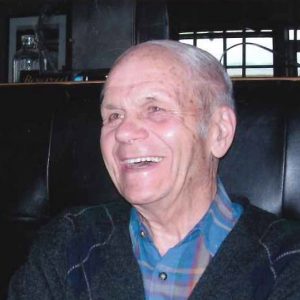 Like many Parkwood residents, Howard Gimbel's early days began on a farm, working hard, enjoying an active and physical life, built on a foundation of strong community and church values.
Born on November 10, 1921 in Breslau, Howard was taught early on that people help one another. He lived up to these expectations throughout his life.
Howard enjoyed a varied career, most of it spent driving, which he loved. During WWII, Howard worked at the Dominion Woolen Mills in Hespeler, sending his wages to the Red Cross. He then went to work for Silverwood Dairies as a milk man, driving a horse-drawn wagon at first, then transitioning to a milk truck. This was followed by a career working for Stafford Foods, covering a territory for the food distributor. In the last five years of his career, he worked for the Mennonite Foundation (now known as 'Abundance') as a financial consultant and served on the Board for Mennonite Mutual Aid.
Howard was generous with his time outside of work. He loved sports, especially baseball. He umpired into his eighties and also volunteered as a timekeeper and statistician in the Mennonite Hockey league in Elmira. He volunteered with Big Brothers and enjoyed gardening.
He also loved to sing, blessed with a good tenor voice. He especially enjoyed singing hymns, as well as reciting poetry, which he recalled with ease from elementary school. He had a poem for every month of the year.
When he retired, he continued to volunteer as a driver for the Cancer Society. He particularly enjoyed driving into Toronto so he could have a good long chat with clients.
Howard and his wife, Carol, married in 1946, and had two daughters. The couple were the first residents to move into Parkwood's retirement home in 2009. They were joined in the Parkwood community by three other family members. Howard and Carol enjoyed going out for drives into their 90s, until Carol passed in 2014 in her 94th year. The day before Howard passed, six years later, in May 2020, he was still able to recite the Lord's Prayer and the twenty-third psalm with Parkwood's chaplain.
"My father was very personable," says Phyllis Roth, daughter. "He was a caring and giving person, yet had a hard time receiving that back. Independence was so much a part of his life and he had to surrender so much. He would tell the staff at Parkwood 'I can do it' and they would agree to let him do as much as he could. It was important to him. It was one of the reasons he adored most of the staff. Another reason was their kindness. When they could, they would take the time to listen to his stories, which he loved to tell." "His life was underpinned by the values of honesty and integrity. It was important that he show it to others, and he expected that back. I know he found those values and more at Parkwood."