Engage. Enrich. Enjoy.
Are you looking for a way to connect, make friends and give back to your community? Do you have a gift to share and time to share it? Do you enjoy helping others?
Members of our active volunteer program are an integral part of Parkwood's community. Volunteering is a unique opportunity to spend time doing the things you like while creating meaningful connections.
Give us a call and discover how your kindness, skills and experience can help to build a community for all.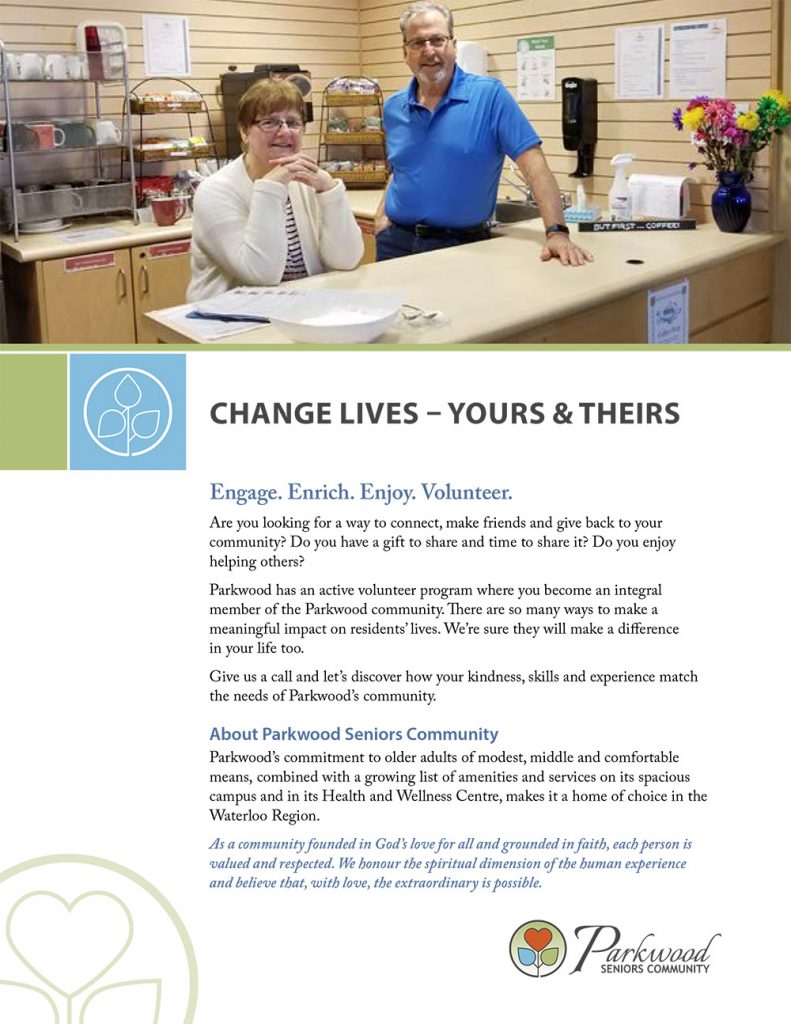 Parkwood Seniors Community includes:
Parkwood Mennonite Home Inc.
Parkwood Suites Retirement Residence
Parkwood's Garden Homes
Parkwood's Health and Wellness Community Centre
Coming in 2024: Parkwood's new apartment building
Volunteer opportunities:
We appreciate the caring support of volunteers and always welcome new members. We have many volunteer positions available to suit your interests and availability.
Be a friendly visitor
Help a resident enjoy their meal
Porter residents to activities
Volunteer virtually
Deliver groceries
Work in the café
Teach a craft
Support a special event
Play bingo
Share your love of music
…AND SO MUCH MORE
For more information:
Please call or email Parkwood's Director, Programs at:
Telephone: 519.885.4810 ext. 339
Email: lhicks@parkwoodmh.com
To Apply:
Parkwood Seniors Community respects, appreciates and encourages diversity. Applications from all individuals are encouraged. Accommodations will be provided in all aspects of the volunteer application process. Applicants just need to make their needs known in advance.