Let us provide hospitality and personal care services to fully support your comfort, safety and independence.
Parkwood Suites offers 56 assisted living apartments ranging from cozy 294 sq ft studio apartments to spacious 598 sq ft one-bedroom apartments, with five layouts to choose from.
Each bright, unfurnished unit features a kitchenette with a refrigerator, accessible washroom with shower and safety features, large window(s) and individual climate control. The monthly fee includes three meals a day, heat, hydro and water; 24-hour emergency response, medication management, monthly wellness assessments, weekly laundering, controlled entry access, and access to campus amenities.
Peace of mind and quality of life
Parkwood Suites
720 New Hampshire Street, Waterloo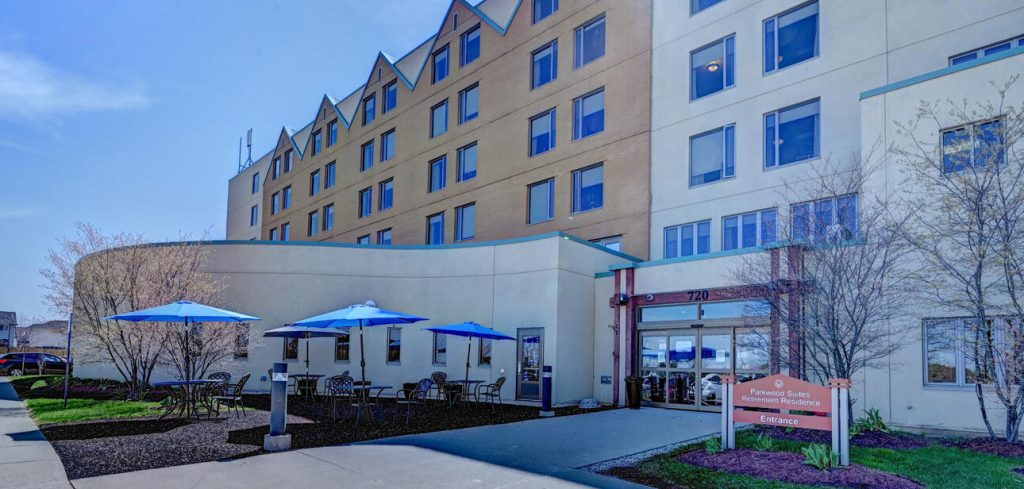 Parkwood Assisted Living Studio, Layout B - Premium Studio 565 sq ft
Parkwood Assisted Living Studio, Layout A - 294 sq ft
Parkwood Seniors Community Campus
Please call our Reception at 519.885.4810 for more information and to schedule a tour or fill out the contact form at the bottom of this page and a staff member will contact you.
To apply
Please complete this form and return it to Parkwood: