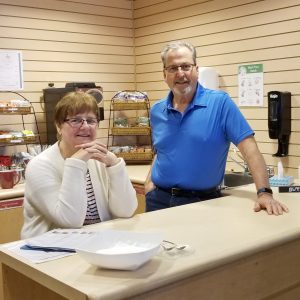 If you look up the word 'volunteer' in the dictionary, the definition should include a photograph of Sharon and Ron Grigsby.
It's hard to imagine how they find time to volunteer. In addition to raising two daughters, Sharon was a long-term care nurse and teaching assistant, and Ron had a career in sales and now serves his church as lay minister and pastor. "We've always believed in supporting others, whether helping out at the Red Cross or with community projects." For Ron, it started when he was 18. "We lived in a small village and my dad and I noticed a man was working alone on his roof. We knew he wasn't going to finish before the snow came, so we lent a hand. It felt good. Sharon shares this commitment and has been a volunteer for 25 years."
Ron's father passed away in 2012, and when his mother, Martha, had a stroke in 2016, Parkwood had a bed available. Ron recalls that it wasn't their first choice. "It only took three days for us to realize that Parkwood was the best place for my mother. This home provides fellowship and makes everyone feel like family. There are so many quiet little spots that are just perfect for Mom – fireside rooms, lounges, the Café, the Sun Room – she loves it here."
Once they were confident that Martha felt settled and safe, Sharon and Ron started to volunteer at Parkwood. "It's the kind of place we felt we could contribute to and, at the same time, we can visit my mother. When the time comes, we want to live here, too."
Volunteering at Parkwood has become a Grigsby family tradition and now it's a three-generation family affair. Their youngest granddaughter has been an elf at Christmas and assists in the Café once a month. Her name tag identifies her as the Café Supervisor. Their 15-year-old granddaughter also helps with barbeques.
"We believe that volunteering is a privilege. With all of the negative things that are going on in the world, it gives you the opportunity to show that people still have the capacity to care for others. People need support and, when you help, you become a better person."