A Lasting Legacy
"We feel fortunate to be able to provide others with an opportunity to live in a safe, kind place."
If you enjoy driving the beautiful countryside and villages in and around Waterloo Region, you may be surprised to learn that Canada's largest feed mill is in the small village of Wallenstein.
While the Martin family can trace its roots back half a millennium, our story begins in 1941, when Isaiah and Nancy Martin sold the Wallenstein General Store to their son, Eli. M. Martin and his wife, Lauretta Martin. They and their four children lived in the house attached to the general store which provided customers with groceries, hardware and household products. Their son, Lloyd, worked in the store from a young age, selling feed from the rear of the store at first and eventually picking up and delivering bagged feed to local farmers. He developed a great passion for the grain and feed business, making his first large order at the age of 18.
In 1953, Lloyd and Delphine (née Horst) were married and bought a house, built by Eli, across the road from the store for $1,400. They began their family of four sons and one daughter with the arrival of Rick, in 1954, followed by Roger (1956), Brad (1959), Terry (1963) and Jackie (1969). Encouraged by Delphine to do what he loved, Lloyd started Lloyd Martin Feed Service in 1955 in a small warehouse across from the store, quickly growing a customer base that appreciated Lloyd's hard work and excellent service. When Riverside Feeds, a small feed mill down the road, became available for the enormous sum of $90,000, Lloyd was determined to buy it. With the help of two investors, who were quickly paid back, Lloyd bought the business and launched Wallenstein Feed and Supply.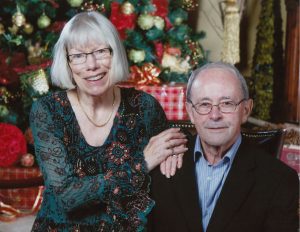 The growing business was hit with a horrible setback in 1963 when most of the mill burned to the ground. It could have been the end of this story. However, Lloyd and Delphine's employees, suppliers, friends, neighbours and bankers, rallied around the Martins to fill feed orders for customers and rebuild the mill in less than four months, demonstrating the strength of the community's values. Lloyd continues to be grateful for this enormous help. It made it possible to continue growing the business with his eldest son, Rick, joining in 1981, who serves as the general manager, and Nancy, Rick's wife, who has worked as the accountant since 1982. Lloyd retired in 2016 and has seen a third generation of Martins involved in the business which has grown to be the largest feed manufacturer in Ontario.
While Lloyd was building the business, Delphine raised their children, who all grew up to be extraordinarily accomplished, and managed the household. Once the children were well on their way, Delphine began to take time for her own education and interests.
"Our mother was blazing smart, a real thinker, very complex and at least 20 years ahead of her time," says Rick. "She was married at 19, raised the five of us, supported our father in business, and then got her Masters in Psychology. She was first at a lot of things – first youth conference minister for Mennonite Church Eastern Canada, was the founding Executive Director of Shalom Counselling Services, served for many years on the board of Conrad Grebel University College and the board of Woolwich Counselling Centre. She was interested in starting a dialogue on topics several decades ago that are still challenging."
"My siblings and I grew up while the business was being built," says Rick. "We've all worked hard to get where we are today. Still, we know that we're fortunate. We are interested in social justice, including low-cost housing, and helping people who are vulnerable. Our father is at Parkwood now and the culture of kindness and respect is evident. They've demonstrated their strengths and commitment to support seniors who may not be well supported by their family and simply don't have resources. We know that lots of people haven't had opportunities or something happened that they didn't have the resources to buy a house. We feel fortunate to be able to provide others with an opportunity to live in a safe, kind place. I think our mother would be happy about that."
"Housing is important; affordable housing is important; seniors are important; and affordable housing for seniors is very important. When you can do it with kindness in a caring community, then you are accomplishing something exceptional. This amazing project at Parkwood ticks all of the boxes."

Rick Martin, son of Delphine & Lloyd
In honour of the Delphine and Lloyd Martin family gift, Parkwood's new building will be named "The Delphine and Lloyd Martin Apartments".