Meaningful Lives
"Helping others in need is not only a responsibility of life; it is what gives meaning to life."

– Molli Marti
Elmer Shantz (1933-2021) was raised on a farm outside of Hespeler, Ontario. In the early 1950s, Elmer began his career in construction, working his way up to superintendent. He had a natural ability to coordinate people and projects. These skills foreshadowed his long-serving volunteer work with Habitat for Humanity, coordinating their major blitz builds from coast-to-coast.
Eileen Witmer (1932-2020) was born and lived on a farm near Listowel, Ontario until the age of five when her family relocated to Kitchener. Moving between rental homes, the family eventually settled into a permanent home of their own when Eileen was 10. Her first job was as an elevator operator at Goudie's Department Store in Kitchener. In time, she began learning office procedures and making the bank deposits.
Elmer and Eileen were married in 1952. Three years later they purchased a farm backing onto Elmer's parents' Hespeler farm, where they raised their two sons, Bob and Larry. They lived there for the next 55 years.
Those were busy years! The family school bus business started out of necessity in 1958 with the family station wagon. Eileen began transporting Bob and other area children to school. Over time the bus routes expanded to multiple routes. In 1971, when an acquisition decision was made to expand the business, Elmer switched from construction to join Eileen full-time. In 1975, after another expansion, their sons joined them full-time in the company. Over the years Shantz Coach Lines Limited relocated and centralized to Kitchener. The business, with its valued 200 employees and 175 vehicles, was sold in 2003.
Both Elmer and Eileen's work habits and thriftiness, along with their values of benevolence and generosity to those in need were formed during their Depression era upbringings. According to his family, Elmer's philosophy for life was best summed up in a quotation by Molli Marti the family read in an Abundance Canada booklet: "Helping others in need is not only a responsibility of life; it is what gives meaning to life." He believed in giving a hand up, not a handout, and together they put that philosophy to work, leading by example through their support of many organizations.
"While mom and dad had different skills sets, they did everything together and worked side by side building the family business," says Bob Shantz, who has also served on Fairview Parkwood Communities' Board of Directors, and currently serves on Parkwood's Building Committee and Campaign Committee. "They deeply valued their family and also their employees. Their home was one of hospitality and they hosted various Boards, busing functions and extended family gatherings. They were faithful members of Stirling Avenue Mennonite Church in Kitchener. It was extremely important to them to pass their values on to their children and grandchildren."
The family's tradition of giving back continues, as Elmer and Eileen wished. Larry Shantz shared these remarks at Parkwood's groundbreaking event on May 26, 2022: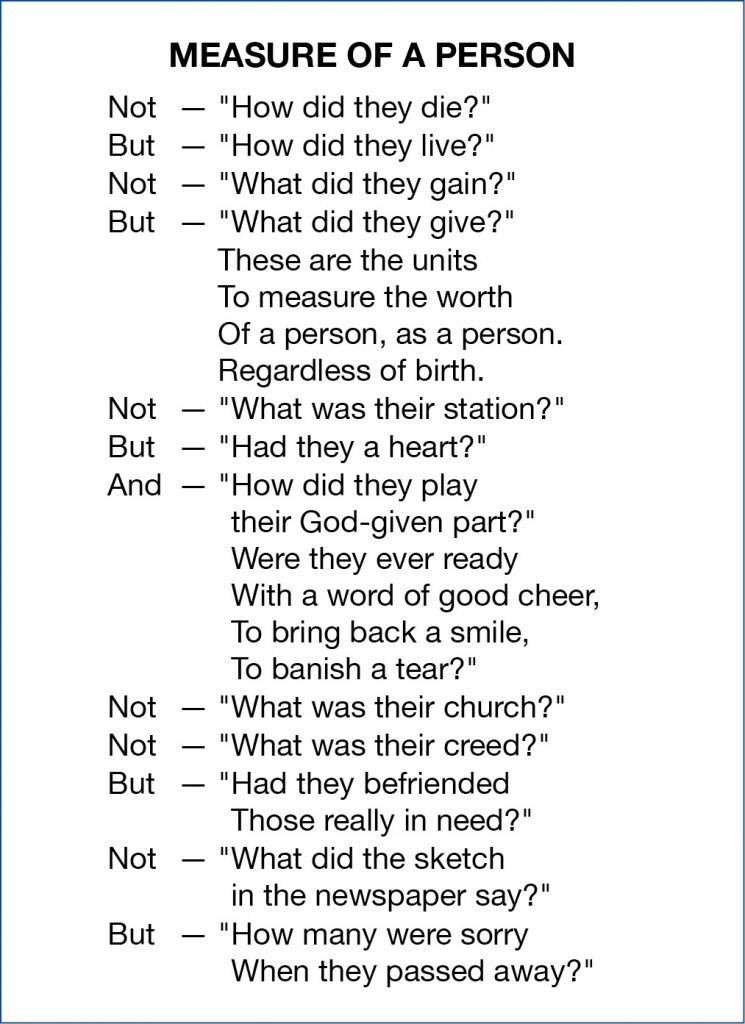 "It was not a stretch for our family to consider our collective participation in getting behind this exciting Parkwood expansion project. A key and persuading factor in our decision-making was the visionary inclusion of making one-third of the units affordable senior independent living apartments.
"Our parents had a long and woven history with the Fairview and Parkwood communities. Dad served for many years on the Fairview Board of Directors during the 1980s and 1990s – a number of those years as the Chair. His building experience was an asset to the understanding of the complexities of Fairview's renovation and expansion, and eventually, Parkwood's initial build. Our mom would find herself volunteering for 25 years at the Fairview store and café, enjoying the many friendships she made along the way. Eileen had a long tradition of making her famous Christmas cake for Fairview's annual Christmas craft sale. In 2010, our parents moved into Fairview's cottages, then into Fairview's assisted living retirement suite. Our dad also lived at Fairview's long-term care.
"This visionary project aligns completely with the way our parents lived their lives. The naming option of the apartment foyer fits well with our parents' philosophy as a place where people can gather and be welcomed as part of a community. We commend the work and vision of Parkwood's administration and Board of Directors for bringing this project to fruition. May community abound at Parkwood."
Parkwood is pleased to name the Apartment Foyer in the new apartment building to honour the Elmer and Eileen Shantz Family, including Bob and Judy, and Larry and Marcia.