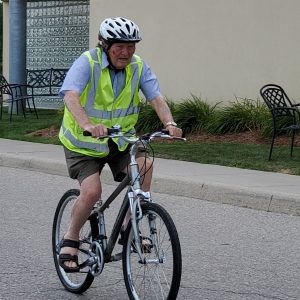 Equipped with two languages – German and Russian – Albert left post-war Europe, spending five years in Paraguay prior to arriving in Canada when he was 27. He met and married Betty Fast, a Canadian Mennonite, in Niagara-on-the-Lake, Ontario. Betty taught Albert how to speak English and to drive a car. Together, they had four children.
"It sounds intimidating when you look back, but it seemed fairly obvious what choices to make," said Albert. "I took a job as a brick layer's helper at first. I wasn't picky. I've had various experiences. Some weren't my first choice but I learned what I didn't want. I moved next to General Motors, which had better pay. However, they went on strike and I went back to brick laying. A year later the owner asked me to look after the business because he wanted to go to university. So I did. However, the next year I decided I should go to university myself."
"In view of my age, I took what I needed so I could improve my English. I took honours English and German as my easy course. At that time, there was a huge need for teachers. I had family responsibilities, so I took a job teaching English and German in Peterborough. By then, we had three small kids and were expecting our fourth. I was able to finish my degree part-time."
After four years, Albert and his family moved to Hamilton and he continued teaching at Parkside High School in Dundas. When he retired at 60, he learned to cook, as he enjoyed fresh food. He was particularly skilled at making pizza and lasagna, as well as his own 'dry' cottage cheese (glomz), pie, borscht and vareneki (pirogi). He used the whey from the cottage cheese to make his signature 'Whey Better Bread'.
When Albert's wife passed in 2003, he continued to live in their house for nearly 10 years, then made the decision to move to a retirement community. He had friends in the garden homes at Parkwood and in 2012 he made his move to the top floor of the Parkwood Suites Retirement Residence.
"In my life, there were three times, all before I came to Canada, that I thought I was going to die," said Albert. "I'm 94 now. I have learned that life is precarious and precious. And you appreciate that, if you have had risk. Canada is a wonderful country and I appreciate the life I have here."
Albert was easily recognizable at Parkwood – he was the one riding his bike, every day, weather permitting, wearing a bright yellow safety vest and white helmet. He also enjoyed aquafit and reading, and was so impressed with Parkwood's Kindness initiative that he sent each of his grandchildren a Christmas card with a message reminding them of the importance of kindness.
"The staff at Parkwood are excellent," said Albert. "Very friendly. There's a saying: 'It is nice to be important, but more important to be nice'. I think you could say the same thing about kindness. It is important to be kind."
Note: This interview took place in 2021, a year prior to Albert Willms' passing